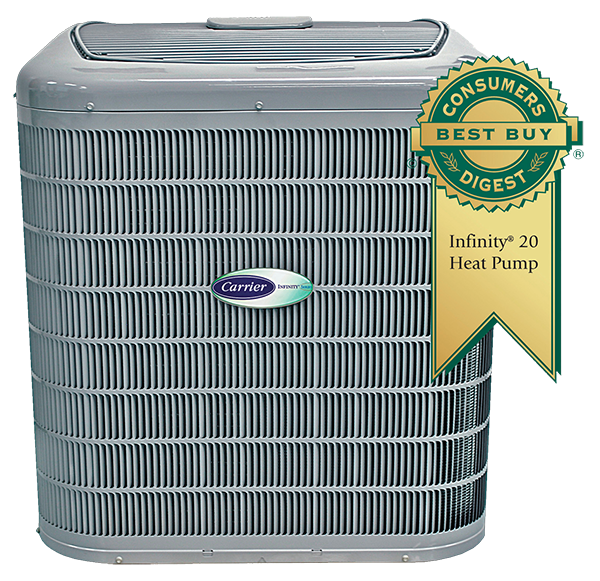 Schebler Heating and Air carries the Carrier Infinity Series, the leader in air conditioning systems. The Carrier Infinity Series controls temperature, humidity, indoor air quality, fans speed and ventilation while minimizing temperature swings.
More than 95 percent of Schebler Heating and Air installations qualify for energy rebates. That means they have better than 92 percent energy efficiency rating.
Please browse our product lines and contact us to see how we can make your air conditioning system work smarter, not harder for you.
Air Conditioners
Infinity 21 Central Air Conditioner – This model earned the ENERGY STAR Most Efficient 2012 designation in select sizes and applause from Consumer's Digest as a Best Buy winner. The Infinity 21 Central Air Conditioner is quiet and energy efficient with up to 21 SEER, and the two-stage compressor makes a big difference in managing indoor humidity.
Infinity 17 Central Air Conditioner  – ENERGY STAR qualified in all sizes, the Infinity 17 Central Air Conditioner has a two-stage scroll compressor provides high efficiency and quiet operation that makes earns it the Infinity name. This model achieves up to 18 SEER when paired with an Infinity variable-speed indoor unit and an Infinity control, for even smarter energy and comfort management.
Thermostats
Are you interested in the latest and greatest thermostats on the market today? Click here to view all of the options available.
Request an Appointment
Schebler Heating and Air has been servicing the Quad City area since 1895. Our experienced staff is available 24 hours a day, seven days a week. If you are looking for service After Hours Emergency please call 563-359-8001. Emails are only monitored during normal business hours.
Request
Financing Options
Through a close relationship with Wells Fargo Bank, N.A. and as an expert Carrier dealer, Schebler offers, with approved credit, a variety of flexible options for financing your new Carrier product or system. That way, you can invest in your home's comfort or respond to an unexpected heating and cooling need without breaking your monthly budget.
Apply Now