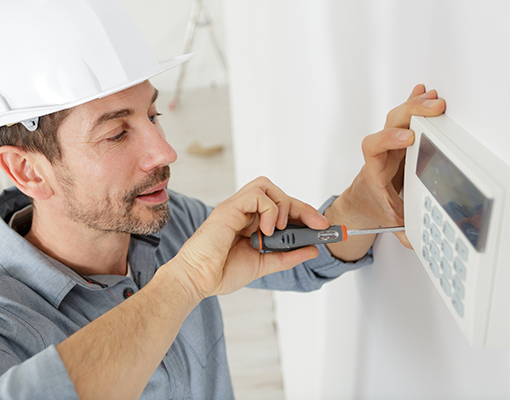 24-Hour Heating Services in the Quad Cities
When you work consistently with an HVAC company, you build a relationship that you can count on. At Schebler, we work hard to help this relationship grow so that you know who to call when you have a heating system emergency. Our goal is to give you the trust you need, to call us when you have an emergency with your heating system 24 hours a day. We provide emergency services to our customers because we know how important it is to have an HVAC company you rely on.
Book Appointment
Why Schebler is the Top Choice for 24/7 Emergency Heating Service
When you need emergency heating services in the Quad Cities area, Schebler Heating and Air is the company for you. With over 100 years of experience in the field of heating and cooling, our technicians are ready to answer your call day or night. Whether you have a boiler heating system, traditional furnace, or geothermal heat pump, we have the skills needed to solve your heating problems. 
The right equipment and training matter, and all of our technicians are prepared to handle your emergency heating needs. Schebler is the top choice in the Quad Cities area to call when you need routine maintenance or emergency services for your heating and cooling system. From small repairs, to complete system replacements, we are there when you need help with your heating system.
Book Appointment
Do I Need Emergency HVAC Repair Service?
When the weather is cold and your heat isn't working properly, it's important to protect your home or business. You may need emergency HVAC repair services if:
The heater won't turn on
When your heater won't turn on, you aren't getting the warm air in your home that you need. You can try your circuit breaker to see if a circuit has been tripped. If you can't identify the problem, you need help with your system.
Cold spots/uneven temperatures
Uneven temperatures and cold spots throughout your indoor space is going to lead to excessive heating costs. Your blower system may not be working correctly when you have areas that are cold.
Strange noises or odors
If you have strange noises or odors coming from your heating system, turn it off until a heating and air conditioning technician arrives. Any number of reasons can be causing the odor or noise, and you don't want to ruin your heating system further by trying to run it.
Heater produces cool air or weak airflow
When you don't have hot air coming from your heating system, it needs to be serviced to see what is going on. Weak airflow will make it impossible to keep your home warm through the night.
Spike in utility bill
If you see a sudden increase in your utility bill, this can mean your heating system is working too hard to keep your home or business warm. Your system needs to be inspected to determine if it is efficient, or if it is time to replace your system with one that works properly.
Book Appointment
Reliable Heating Repair Service When You Need It Most
We have emergency service technicians available any time, day or night, 365 days a year. When you call Schebler, you aren't leaving a message with a computer system. If you call after hours for an emergency heating repair, you are going to talk to the owner of the company to discuss what is going on with your furnace or heating system.
You will get prompt, efficient service for your emergency heating needs when you reach the owner of the company. Our reputation is important, and we know what it takes to provide excellent customer service to everyone who needs our emergency services.
We offer our preventative maintenance program to Quad Cities residents and will prioritize those who are members when there are too many calls to deal with at once. While we work hard to get to each customer we serve, maintenance program customers get priority.
Book Appointment
Contact Schebler for 24/7 Emergency Heating Repair
If you live in the Quad Cities area and need emergency heating repair, it's time to contact Schebler. We provide emergency services for anyone in the area 24 hours a day, 7 days a week. You are not left in the cold when you work with Schebler.
Book Appointment