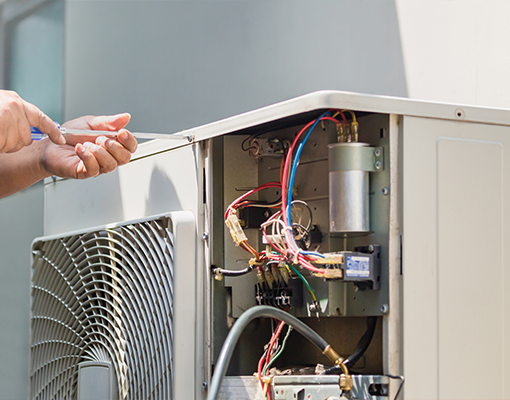 Quad Cities Heat Pump Installation Services
Are you looking for the most efficient way to heat and cool your home? Schebler Heating and Air has the solution for you! Heat pumps are one of the most efficient ways to keep your home comfortable all year long.
Schebler Heating and Air has been serving the Quad Cities area since 1895 and is one of the most trusted businesses in heating and air. Our technicians pride themselves on giving our customers the best service and working hard so your home is comfortable. For heat pump installation service in the Quad Cities, contact Schebler today.
Heat Pump Services
How Does a Heat Pump Work?
A heat pump works by taking heat from the open air and moving it to or away from the home, depending on whether your thermostat is set to 'heating' or 'cooling' mode.
The most common type of heat pump is an air-source heat pump. Air source heat pumps consist of two fans, refrigerant coils, a reversing valve, and a compressor. This model is the most basic type; other heat pumps may vary in components.
During the cooler months of the year, heat is extracted from the ground or open air, sent through the refrigerant coils, pressurized, and then released inside your home. In the warmer months, this process is reversed by extracting the heat inside and then releasing it outside to bring down the temperature inside your home.
Book Appointment
What are the Benefits of Installing a Heating Pump?
Before making any major changes to your home's heating and cooling system, it is good to know the reasons why you should make these changes. A few benefits of switching to a heat pump include:
Heating and Cooling from a Single System
A heat pump system provides your home with year-round heating and cooling. Despite what the name implies, a heat pump also pushes cool air into your space. They don't operate as well once the temperature drops below freezing, meaning you may need a supplemental heating source on the coldest days of the year.
Long-Term Financial Savings
Though the initial cost of installing a heat pump can seem high, heat pumps provide lower energy bills than furnaces and other HVAC equipment, primarily because they don't require a fuel source to provide heat during the winter. The savings on energy bills will add up over time and can make the system a smart financial investment.
Decreased Carbon Footprint
Heat pumps are powered by electricity, which is a cleaner source of energy than fossil fuels such as natural gas and oil. Homeowners looking to decrease their carbon footprint can do so with a heat pump.
If you're considering replacing your current HVAC system with a heat pump, make an appointment with Schebler Heating and Air in the Quad Cities area.
Book Appointment
Maintaining Your Heat Pump
Maintenance is key to prolonging the lifespan of your heat pump. Schebler recommends getting your unit checked out twice a year. First in the spring, and again in the fall, before switching from heating to cooling and vice versa.
Schebler offers our customers a Preventative Maintenance Service Agreement to help them stay on top of their heat pump maintenance. Having a schedule in place ensures that your system receives the bi-annual maintenance it needs.
Maintenance Agreements
Quad Cities Heat Pump Installation Services
Heat pumps provide homeowners with an extremely efficient and effective way to heat and cool their homes. At Schebler, we're proud to provide industry-leading HVAC services that local homeowners and business owners can count on. Schedule heat pump installation services with our team in the Quad Cities area today.
Book Appointment