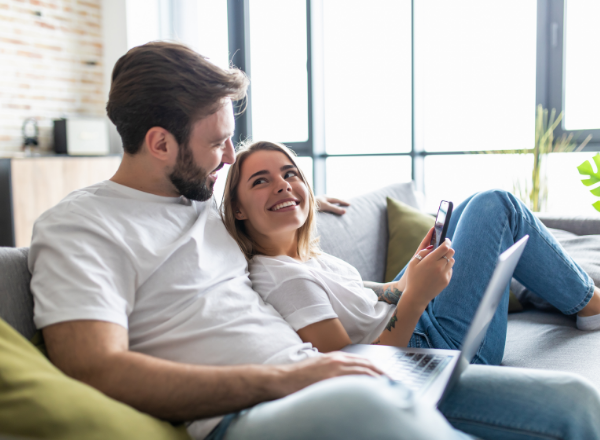 Air Purifier Services
Dust, dirt, pet dander, mold spores, and other pollutants can wreak havoc on a home. Not only can they lead to a large number of common illnesses, but they can worsen asthma and allergy symptoms as well. 
Air purification systems provide homeowners with a method to improve their home's air quality and eliminate common household contaminants. Contact Schebler Heating and Air today to schedule air purifier installation services throughout the Quad Cities.
Book Appointment
What's the Difference Between Air Purifiers and Air Cleaners?
Air purifiers and air cleaners alike provide a home with safer and higher quality air by pulling contaminants out of the air supply. However, while air cleaners simply remove contaminants, air purifiers sanitize the air. 
This means that air purification systems can help you fight back against viruses and other airborne bacteria that could otherwise harm your loved ones. Additionally, the system's ability to sanitize the air allows them to target odors that might be lingering throughout the home, such as smoke and mold spores.
Book Appointment
Benefits of Air Purification Systems
Air purifiers are quickly growing in popularity, and for good reason. These systems are capable of pulling common contaminants out of the air supply and then sanitizing the air to completely rid your home of any common contaminants or viruses. 
When you install an air purifier in your Quad Cities area home, you'll be able to take advantage of benefits including:
Healthier, more pleasant air supply

Fewer illnesses

Improved sleep

Reduced asthma and seasonal allergy symptoms

Eliminated odors
Book Appointment
Do You Need to Install an Air Purifier?
The decision to install a whole home air purifier is ultimately a personal choice. However, there are some signs to pay attention to that can help you determine if an air purification system is right for your home. Consider installing an air purifier in your Quad Cities area home if you notice any of the following issues:
Excessive dirt, dust, or pet dander throughout the home

Your air supply feels stale and contains odors

An increase in common colds, influenzas, and other illnesses

Worsened allergy and asthma symptoms
Book Appointment
Why Choose Schebler?
Schebler Heating and Air is one of the most recognized HVAC companies in the Quad Cities area. Since 1895, we've provided the area with access to the best heating, cooling, and indoor air quality services. We're passionate about helping our customers stay safe and comfortable within their homes, and we'll do whatever we can to pair you with the right equipment for your needs.
From air purifiers and air cleaners to heating installation and repair, we're a full-service HVAC company that can handle any and all of your needs. Contact us today to get started.
Book Appointment
Contact Schebler Heating and Air for Air Purification Services in the Quad Cities
We know that nothing is more important than the health of your family, and installing a whole home air purifier is a great step to take to protect them. These systems install directly to your current HVAC system and can provide years of healthy air. Contact us today to learn more about how air purification systems can help or to schedule an appointment for installation.
Book Appointment