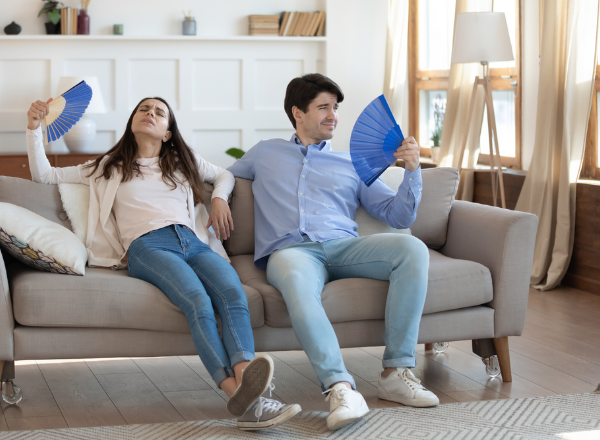 Air Conditioning Repair Services in Muscatine, IA
The summer heat is unrelenting, and you can't afford to be without a working AC for long. That's why Schebler Heating and Air provides Muscatine residents with fast, reliable, and effective AC repair services. 
Give us a call at any time, day or night, for AC repair solutions that you can count on.
Book Appointment
Signs That You Need to Repair Your Air Conditioner
Some AC problems seemingly occur out of the blue, while others show some warning signs before they escalate into more significant issues. If you notice any of the following signs, contact Schebler before more serious comfort problems occur:
Decreased Cooling Output

: If you notice that your air conditioner isn't providing the same level of cooling that it used to, it could be a sign that there's an issue with the unit. This might be due to a faulty compressor, refrigerant leak, or clogged air filters.

Strange Noises

: Unusual sounds, such as grinding, rattling, or squealing, coming from your AC unit can be a sign of various problems. These noises might be caused by loose components, damaged fan blades, or a failing motor.

High Energy Bills

: A sudden spike in your energy bills without any change in usage patterns can be a clear indicator of an inefficient air conditioner. Malfunctioning parts can cause the system to work harder, leading to increased energy consumption.

Frequent Cycling

: If your air conditioner is constantly turning on and off, it might be short-cycling, which can be a symptom of underlying issues that require professional attention.

Weak Airflow

: Poor airflow from the vents can be due to clogged ducts, blocked air filters, or problems with the blower motor. It not only reduces cooling efficiency but can also affect indoor air quality.
Book Appointment
Choosing AC Repair Vs. AC Replacement
Deciding between AC repair and replacement can depend on several factors. If your air conditioner is relatively new and the issues are minor, a repair might be the cost-effective choice. 
On the other hand, consider replacing your AC if the system is old, has frequent breakdowns, and is no longer energy-efficient.
AC Repair:
Cost-effective for minor issues and newer AC units.

Extends the lifespan of the existing system.

Quick and less disruptive compared to replacement.

Environmental-friendly option as it reduces waste.
AC Replacement:
Suitable for older, inefficient, or extensively damaged units.

Provides better energy efficiency and lower long-term operating costs.

Takes advantage of advanced technology and features in newer models.

Improves indoor air quality and overall comfort.
When you work with Schebler, our team can help you decide whether AC repair or replacement is the best choice for your situation. Reach out to us today to get in touch with our team of experts.
Book Appointment
Can AC Maintenance Prevent Issues?
Regular AC maintenance is essential to prevent issues and ensure the optimal performance of your cooling system. Not only can you help your system run smoothly, but during a tune-up, any minor issues will be discovered and addressed before they grow to become more serious and expensive.
Regular AC maintenance is a proactive approach that pays off in the long run. Schedule your annual AC maintenance appointment with Schebler today.
Book Appointment
Choose Schebler — Your Quad Cities AC Repair Company
When it comes to reliable and experienced AC repair services in the Quad Cities area, Schebler is a trusted choice. With years of expertise in the industry, our team of skilled technicians can promptly diagnose and repair any AC issues you may experience.
At Schebler, we prioritize customer satisfaction and offer transparent pricing, ensuring you're aware of the repair costs upfront. We use top-quality replacement parts and cutting-edge tools to ensure the longevity and efficiency of your cooling system after repairs.
Book Appointment
Schedule With Schebler in Muscatine, IA
Residents throughout the Muscatine, IA area can count on Schebler to deliver exceptional AC repair services that solve any AC issues. From short cycling to a complete lack of cooling, Schebler has the answers you need.
Give us a call today to schedule AC repair services in Muscatine, IA.
Book Appointment