Our commercial design-build clients routinely deal with budgets in the millions and timelines that are measured in weeks, not months. They rely on Schebler because we identify every possible opportunity to save money and time throughout the design and construction process.
Whether you're looking for single elements or our full mechanical design-and-build partnership, our unparalleled technical expertise and superior construction can ensure your space offers the comfort you're looking for without sacrificing energy efficiency or reliability.
Our Design-Build Process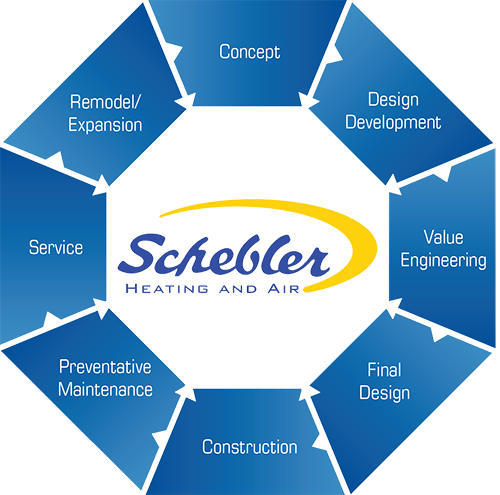 Concept
Whether your project is a new building or a remodel, we begin with a detailed technical discussion between the building owners, developers and/or architects to understand your building use requirements. We consider the spatial implications of those requirements on building design.
Design Development
With the overall building concept in place, Schebler will begin developing preliminary designs and budgets for a system that meets the needs of future occupants while maximizing energy efficiency.
Value Engineering
With the preliminary design in place, it's not unusual to start looking for cost savings opportunities. Think of it as the design "reality check." At this point, we step back and re-examine the design to see where we can reduce costs without sacrificing efficiency—from reducing the number of zones to considering a different type of equipment
Final Design
Here's where it really pays to work with Schebler. Our on-staff 3-D modeler will create a working HVAC design and integrate it with the plumbing and electrical design to ensure efficient placement. This helps eliminate re-engineering and cost overruns during the construction process.
Construction
Schebler keeps you on schedule with expert project management throughout the construction process. Our experienced tradesmen are known for their exceptional workmanship and commitment to safe, precisely-to-spec installations.
Preventitive Maintenance
Over time, even the best-designed HVAC systems will lose efficiency if they are not properly maintained. Schebler offers customizable commercial maintenance plans to keep your equipment in peak condition.
Service
When repairs are needed, you can count on Schebler's skilled technicians to get critical systems back online as quickly as possible. We know your equipment—and we are available 24 hours a day, 7 days a week.
Remodel/Expansion
Schebler was built on long-term relationships with our clients. We understand your priorities and the unique needs of your business and want to be a continued partner in your success.