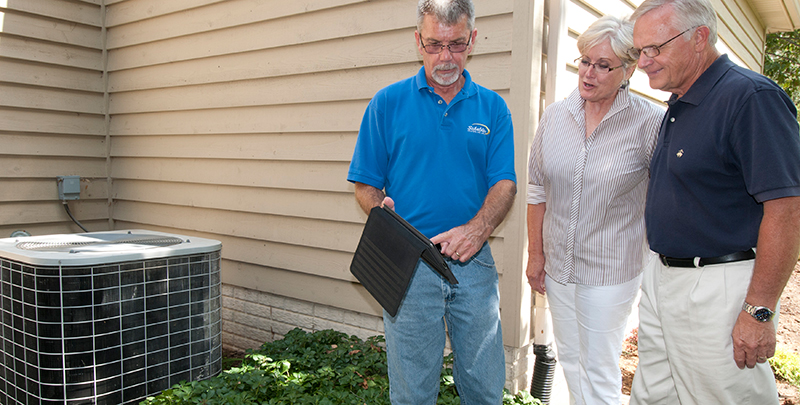 Choosing the right heater or air conditioning system can be intimidating. It's a significant investment, and you'll be living with the consequences for the next 10-15 years.
Schebler can help you find the right HVAC solution for your home. Because heating and air conditioning technology has become much more energy-efficient since you last replaced your equipment, you may find you need a much smaller unit now. Our technicians begin with a load calculation that factors in windows and doors, insulation and ductwork.
We also ask about particular concerns—a room that won't stay warm or an area of the house you don't use as frequently. Then we'll give you a detailed estimate of what it will cost to make your home more comfortable—you might not even need to replace equipment at all.
You may also qualify for valuable rebates on your installation through your local energy company. Learn about the SAVE Program »
Products
Cooling
Customize your comfort with the industry-leading reliability of Carrier. These energy-efficient air conditioning systems help you control temperature, air quality and humidity on even the hottest days.  Read more »
Heating
Schebler can help you find the right energy-efficient Carrier gas or oil furnace, with options that are up to 98 percent efficient and easier than ever to maintain. Some models will even remind you to change the filter! Read more »
Boiler
Live in a home with radiant heat? You can still enjoy reduced fuel consumption and potential cost savings with an energy-efficient Carrier boiler. Read more »
Geothermal
Experience the ultimate in energy-efficient heating and air conditioning. Carrier's geothermal heat pumps can reduce your fuel consumption by up to 60 percent. A geothermal system can also last more than twice as long as conventional air conditioners or furnaces. Read more »
---
Services
Inspections
Buying or selling a home? Schebler offers professional inspections of heating and air conditioning equipment, ductwork and vents by state licensed and factory trained technicians . Read more »
Duct Cleaning
Dust and allergens in your ductwork not only increase allergies and breathing problems—they can reduce the lifespan of your heating and air conditioning equipment. If you've noticed a lot of dust in your home, you could be breathing easier in just a few hours. Read more »
Platinum Customer Program
Regular maintenance increases the safety and durability of your heating and air conditioning systems—and may help lower your monthly energy bills. Learn how you can save money on seasonal tune-ups and after-hours service with Schebler's Platinum Customer Program. Read more »
After-Hours Service
When your furnace goes out and its -10 outside, you may not want to wait until morning to get it repaired. Schebler technicians can begin to diagnose your heating or cooling problem over the phone—and are ready to help you day or night. Read more »
Home Performance Testing
If your home isn't as warm or as cool as you'd like it to be, it may not be your equipment's fault. With Home Performance Testing, Schebler technicians take the pulse of your home, identifying gaps in your insulation, making sure ductwork is the right size, and ensuring your house is as comfortable as possible. Read more »